(A Tea Party Under A Halloween Moon)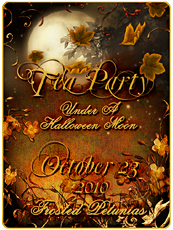 Welcome my witchy friends! Please do come in, I am just putting the finishing touches on the treats for our full moon tea party. The moon is up so let us begin!
Would you like to choose your tea cup? I have many options.
Did you see one you like? I think I will use this one for our party!
What kind of tea shall we have? I think jasmine, it is perfect for mystical moon magic. Does that sound good?
I have the table all set!
Oh and I invited another guest. The lovely little Spirit, who came to me via a giveaway at
Vagabond Creations
. Thank you Zan I just love her!
And of course this lady is always on my lap as soon as she sees that tea is served.
Mmm, the tea is so fragrant, would you like another cup?
Be sure to try my spooky spiced pumpkin muffins...
...and what tea party would be complete without hauntingly delicious cucumber sandwiches.
I think maybe I have eaten too much already!
Shall we adjourn to the fire outside?
It has been such a magical evening, and here under the stars, with the moon and the fire is the perfect way to end it.
Thank you ever so much for stopping by! You are always invited and I would love to host you for tea again anytime! And a big thank you to Anna at
Frosted Petunias
for hosting this event, be sure to head over there to see all the party participants.
Have a wonderful night!